Our courses
A-levels are challenging yet rewarding qualifications that typically require two years of full-time study. The overwhelming majority of students will concentrate on 3 A-levels. However, students with very strong GCSE grades may be able to take 4 A-level courses across the two years. Students may also extend their learning by undertaking an optional Extended Project Qualification (EPQ).
A-level options and entry requirements
In order to progress to the Pinner High School Sixth Form students must achieve the following grades at GCSE:
Grade 5 or above in Mathematics
Grade 5 or above in either English Language or English Literature.
Students must also achieve at least 4 other GCSE passes at grade 4 or above.
Finally, students must meet the GCSE entry requirements for the particular A-level subjects they would like to study from the list below.
For more information about our A-level courses and other Sixth Form programmes, please download our Sixth Form Prospectus (link at the bottom of this page).
A-level options and entry requirements
| | |
| --- | --- |
| A-level subject | GCSE requirements |
| Art and Design (Fine Art) | 5 in Art |
| Art and Design (3D Design) | 5 in a Design Technology related subject |
| Biology | 6 in Biology and a 5 in Chemistry and Physics or 7-7 in Combined Science |
| Business | 5 in Maths and 5 in English Language or Literature |
| Chemistry | 6 in Chemistry and a 5 in Biology and Physics or 7-7 in Combined Science |
| Computer Science | 6 in Maths and at least Grade 5 in Computer Science |
| Drama & Theatre Studies | 5 in Drama |
| Economics | 6 in Economics (if taken at GCSE) |
| English Literature | 6 in English Literature and Grade 5 in English Language |
| Geography | 6 in Geography |
| History | 6 in History |
| Mandarin | 6 in Mandarin |
| Mathematics | 6 in Maths |
| Further Mathematics | 8 in Maths |
| Music | 6 in Music or Grade 5 theory and Grade 6 instrument |
| Physical Education | 6 in PE and 5 in Biology or 5-5 in Combined Science |
| Physics | 6 in Physics and 5 in Biology and Chemistry or 7-7 in Combined Science |
| Politics | 5 in English Literature or Language and Grade 5 in another Humanities subject |
| Psychology | 5 in English, 5 in Maths and Grade 5 in either Biology or Combined Science |
| Religious Studies (PRE) | 5 in PRE or equivalent Humanities subject if PRE has not been studied at GCSE. Grade 5 in English Literature or Language |
| Sociology | 5 in English Literature or Language |
| Spanish | 6 in Spanish |
| | |
| --- | --- |
| Additional (optional) course | GCSE requirements |
| Level 3 Extended Project Qualification (EPQ) | 5 in English Language or Literature |
Please note that courses with insufficient student numbers may not run. We will encourage all students to select a reserve option on application.
Other subjects offered within the Harrow Collegiate can be taken as 'away subjects' at a different centre, if not offered at Pinner High School. The entry criteria for these will be decided by the centre offering the course.
Choosing A-level subjects
Having trouble choosing courses? Don't worry! Speak to your teachers for information, advice and guidance about specific subjects and the topics covered as part of the course. In the coming months there will be a number of assemblies and events that will provide you with the information you need to take the next step.
Each and every applicant to the Pinner High School Sixth Form will attend an admissions interview and you will have the chance to discuss your options and receive advice regarding which courses will match your skills, interests and aspirations.
For those students who have clear ideas about the university courses or career paths they wish to follow in the future, choosing subjects may not be so difficult. In contrast, those who are unsure about the subject or career they wish to pursue may find it useful to keep their options open and study a range of courses that appeal to their academic strengths and interests. That being said, please do be realistic when choosing certain subjects. Fundamentally, there are three main questions you should ask yourself when choosing your A-level courses:
1. What do you enjoy studying?
2. What do you believe you do well in?
3. What will get you to where you want to be in the future?
Myth busting
There are countless myths surrounding A-levels, their perceived difficulty and how some courses are regarded by universities. Here are some common (and often contradictory) myths associated with A-levels.
MYTH: 'A-levels are really hard!'
TRUTH: While A-levels are certainly a step-up from GCSE they are by no means impossible. They are two year courses that require dedication and commitment, hence why it is so important that you must have a genuine interest in what you are studying. Additionally, this is also why it is so important to choose the courses that are right for you.
MYTH: 'Some subjects are much harder than others'
TRUTH: It all depends on the individual. Students who naturally gravitate towards Mathematics may find A-level Maths much easier than History. It is important that you reflect on your prior achievement in a particular subject at GCSE; if your attainment has been inconsistent then it may be wise to avoid a certain subject at A-level as the depth and breadth of what you study is much greater than at GCSE level.
MYTH: 'Universities only want students who have study 'traditional' subjects'
TRUTH: While it is true that some university degree courses require students to have studied particular A-levels, you will be hard-pushed to find a university that dictates each and every A-level you should study. In the past a list of 'facilitating subjects' was published by a group of universities. This list was originally intended to provide students who were unsure of what to study at A-level with advice about which subjects were most likely to be required by universities for certain (and certainly not all) degree courses. This list of subjects (which has since been abandoned) became misinterpreted as 'the only A-levels you should study'. Rest assured, all of the courses offered at Pinner High School are all reputable and recognised by the very best universities in the UK and abroad.
A typical week for Pinner High School Sixth Form Students
A typical week for a Pinner High School Sixth Form student embodies academic, super-curricular and self-development activities. In addition to six periods per week for each of their A Level courses, students will also undertake additional periods of 'Consolidation' (directed independent study), Sixth Form Service (volunteering), Form Time and Period 7 activities. Our 'And Beyond' programme of personal development has been designed to prepare student for life beyond school, and features a range of topics, guest talks and workshops from external organisations relating to health, safety, relationships, careers, higher education and issues that face young people in contemporary Britain.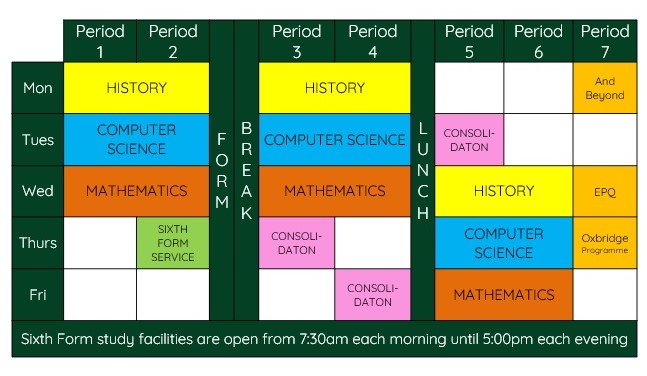 Additional links and resources
A-Levels aren't everyone's cup of tea...
If you're not sure about A-Levels or want to take a more vocational route, you may find the information on the 'Choosing a Post-16 Pathway' helpful. Please do speak to your tutor, Head of Year or Mr Pandya if you would like any guidance with selecting a post-16 pathway.