Applications for the 2022-23 academic year have now closed
---
However, please do complete our online application if you wish to be considered for a place. Please note that Mathematics, Physics, Biology, Chemistry and Psychology are particularly oversubscribed.
Students who have not yet applied to Pinner High School are welcome to contact us on GCSE results day (Thursday 25th August 2022) to see if we have places available.
'Inspiring learning, inspiring passion, inspiring ambition'
These are the words that guide the Pinner High School Sixth Form and its ethos. It's a motto that builds upon the outstanding success of the school and reflects what young adults need to succeed in education and beyond. We make it our priority to provide students not only with inspiring learning opportunities, but also the care, guidance and support needed to make informed choices about their future.
Fundamentally, our aim is to further ensure that all of our students leave us as well-rounded, conscientious and compassionate young adults who care deeply about their school community and wider community at large.
---
Courses on offer for 2022-23 and entry requirements
Please note that courses with insufficient student numbers may not be run. We encourage all students to add a reserve option when completing their application.
In order to progress to the Pinner High School Sixth Form students must achieve the following grades at GCSE:
Grade 5 or above in Mathematics
Grade 5 or above in either English Language or English Literature.
Students must also achieve at least 4 other GCSE passes at grade 4 or above.
Additionally, students must meet the GCSE entry requirements for the particular A-level subjects they would like to study from the list below.
| | |
| --- | --- |
| A-level subjects | GCSE requirements |
| Art and Design (Fine Art) | 5 in Art |
| Art and Design (3D Design) | 5 in equivalent Design Technology related subject |
| Biology | 6 in Biology and a 5 in Chemistry and Physics or 7-7 in Combined Science |
| Business Studies | 5 in Maths and English Language or Literature |
| Chemistry | 6 in Chemistry and a 5 in Biology and Physics or 7-7 in Combined Science |
| Computer Science | 6 in Maths and 5 in Computer Science |
| Drama | 5 in Drama |
| Economics | 6 in Economics (if taken at GCSE) |
| English Literature | 6 in English Literature and Grade 5 in English Language |
| Geography | 6 in Geography |
| History | 6 in History |
| Mandarin | 7 in Mandarin |
| Mathematics | 6 in Maths |
| Further Mathematics | 8 in Maths |
| Music | 6 in Music or Grade 5 theory and Grade 6 instrument |
| PE | 6 in PE and 5 in Biology or 5-5 in Combined Science |
| Physics | 6 in Physics and a 5 in Biology and Chemistry or 7-7 in Combined Science |
| Politics | 5 in English Literature or Language, Grade 5 in another Humanities subject |
| Psychology | 5 in English, 5 in Maths and a Grade 5 in either Biology or Combined Science |
| Philosophy (changed from Religious Studies for 2022) | 5 in PRE (or equivalent in Humanities subject if PRE has not been taken at GCSE). Grade 5 in either English Literature or English Language. |
| Sociology | 5 in English Literature or Language |
| Spanish | 6 in Spanish |
Additional (optional) qualification

GCSE requirements

Level 3 Extended Project Qualification (EPQ)

5 in English Language or Literature

An optional Extended Project Qualification (EPQ) for those who demonstrate commitment to independent study and research is also offered. This qualification is highly-regarded by universities and provides students with a chance to develop their research skills and refine their academic literacy. This course requires students to attend taught sessions where they learn such skills while independently exploring an area of personal academic interest.
Click the image below to see our prospectus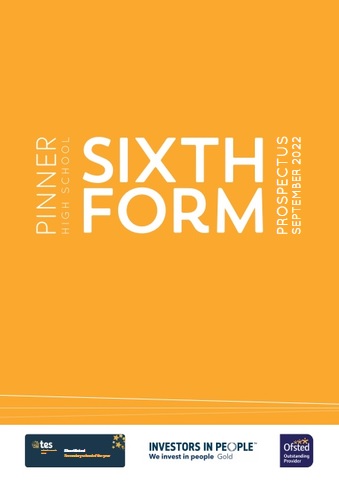 Meet our Sixth Form Team
Mr Chris Stump (Assistant Headteacher - Head of Sixth Form)
After graduating from The University of Nottingham with a BA (Hons) in Social and Cultural Studies, a gap year abroad confirmed that Chris wanted to dedicate his career to teaching. A PGCE in Secondary Religious Education at Sheffield Hallam University was followed by a role as Teacher of Sociology and Psychology at Eckington School in Sheffield before Chris moved to London to work at Park High School in Stanmore. After three years of leading Sociology and teaching Psychology and Philosophy and Ethics, the opportunity to work in a new school and help set-up a brand new Sixth Form proved irresistible: Chris moved to Jewish Community Secondary School in Barnet as Head of Sociology and undertook the role of Year Learning Coordinator for the inaugural cohort of Sixth Form students. In his 5 years at JCoSS, Chris also led teaching and learning initiatives as an SSAT accredited Lead Practitioner and held sessions for parents on how to support their child's revision at home. In 2016, the Sociology department was recognised as eighth in the country (second in London) in terms of value-added at A Level.
Most recently based in Vietnam, Chris was Assistant Headteacher at The ABC International School in Ho Chi Minh City from 2017-2020. As part of this role, Chris oversaw the academic and personal progress of all Sixth Form students and supported them in gaining entry to some of the world's most prestigious universities. Chris joined Pinner High School in July 2020, over a year before the Sixth Form opened. He is excited to share his experience and expertise with Pinner High School students and cannot wait to assist them in seeing their ambitions realised, whatever they may be.
Miss Victoria Bruck (Assistant Head of Sixth Form)
Victoria studied Medicine at Keele University. She graduated with a BSc in Applied Medical Science after deciding to leave medical school to pursue a career in teaching. After working as a Teaching Assistant for a year at Pinner High School, she completed her teacher training with Hillingdon SCITT whilst gaining a PGCE from Brunel University.
In addition to overseeing our Sixth Form students' academic and personal development, Victoria coordinates our extremely popular Medics Society programme.
Miss Rebecca Nelson (additional Assistant Head of Sixth Form from September 2022)
Rebecca attended the University of York where she graduated with a BA in History and a MA in Modern history; specialising in transnational history and contemporary international politics.
After graduating, Rebecca joined Wembley High Technology College as the Year Leader for Year 13 where she played an integral part in the functioning of one of the country's most successful sixth forms. After one year, Rebecca moved into the position of History teacher, and completed a PGCE through Ark Teacher training scheme and Goldsmiths University of London. After three years in this position, Rebecca was thrilled to join Pinner High School in September 2021.
In addition to teaching history, Rebecca is excited to assist Sixth Form students through such a transitional turning point in their lives; bridging the gap between the highly structured educational world they are accustomed to, preparing them for the independence that they shall encounter in their next chosen stages and supporting them in accomplishing their aspirations.
In her spare time, Rebecca enjoys playing strategic board games, cooking and reading. She also enjoys travelling – particularly to places with beautiful coral reefs for snorkelling – in order to explore different foods, cultures and, of course, to find out more about the local history.