Pinner High School is a learning-based community with high aspirations for all. We provide a first-rate personal, inclusive education, through a tried and tested curriculum carefully supported by individual pastoral care. Students have the opportunity to excel in and out of the classroom, on the sports field, on the stage, and in the community, enjoying a wealth of enrichment opportunities.
The school brings life to the motto 'Inspiring Learning'. A great deal of this comes with the exceptional everyday experiences students expect with our first-class staff. It also demonstrates the responsibility our young people will have as Pinner High School students to make a commitment to inspire others. We will equip our students with an understanding of themselves, an appreciation of the world around them and a desire to innovate and solve problems as active contributors to society.
The Curriculum is a key way of meeting these objectives. It has been designed to meet the needs of each individual student, providing opportunities which stretch and excite. Throughout Key Stage 3, students follow the national curriculum which provides breadth and depth.
We ensure that all students receive a rounded education and can progress with a good understanding of the range of areas of study which they might pursue in more depth as they progress through Key Stage 4 and into the Sixth Form. This will allow them to make informed choices as they grow. Transition into Key Stage 4 starts during Year 9 and students follow their chosen Key Stage 4 pathways.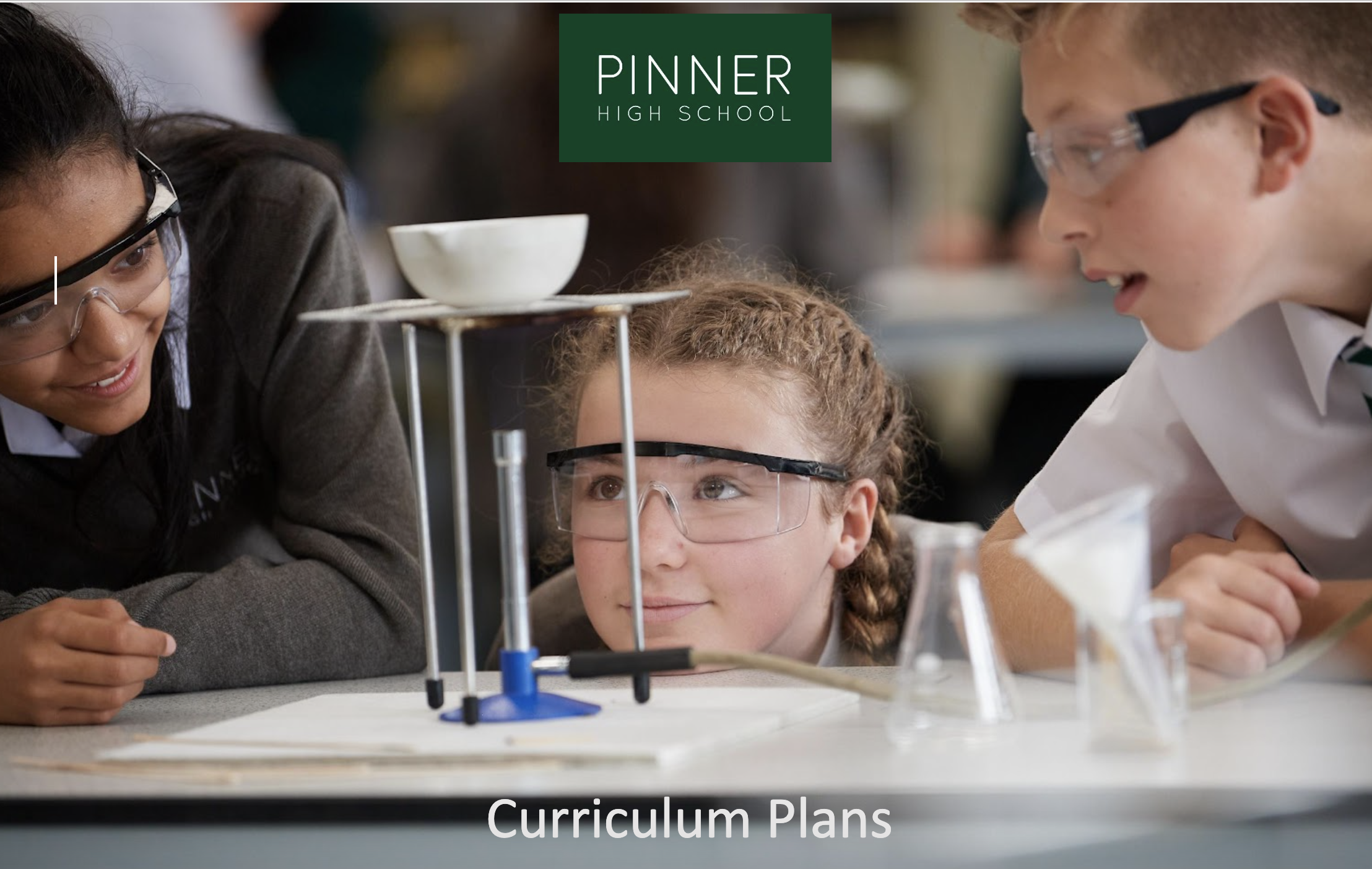 Key Stage 3
The KS3 curriculum is broad and balanced. It provides a focus on the core curriculum areas of English, Maths, Science, MFL and Humanities. This allows students access to the English Baccalaureate (EBacc) when they reach Key Stage 4, whilst also valuing the arts.
PSHE is taught discretely with dedicated curriculum time and during form periods. This provides a varied and engaging approach alongside the curriculum opportunities for students' Spiritual, Moral, Social and Cultural development.
Key Stage 4
Students will be guided through their GCSE option choices. Parents will be invited to school for a presentation on the GCSE curriculum and students will have an individual meeting with their Form Tutor. A senior teacher will be available for 'drop-in' appointments with parents at a designated time so that students and families are fully supported with this process.
The Key Stage 4 curriculum is broad and balanced, as every student will follow the core curriculum of English, Maths, Science and PE and PRE. Students with appropriate prior attainment are encouraged to study a Modern Foreign Language, a Humanities subject and 2 further choices so that they are eligible for the English Baccalaureate.
The Key Stage 4 subject booklet is below.
The school fulfils PSHE requirements through dedicated time in the curriculum, assemblies and form time which also promote British Values of democracy, rule of law, individual liberty and mutual respect and tolerance of those with different faiths and beliefs. This helps students develop self-knowledge, self-esteem and self-confidence, enabling students to distinguish right from wrong and to respect the civil and criminal law of England. This also enables students to acquire a broad general knowledge of, and respect for, public institutions and services.
The school will preclude the promotion of partisan political views in the teaching of any subject and whilst students are involved in any school activity. The school fulfils Religious Studies requirements through Philosophy, Religion and Ethics and a focus on world religions during tutor time and assemblies.
Key Stage 5 (Years 12 and 13)
Pinner High School is part of the Harrow Sixth Form Collegiate. Please see the Sixth Form tab above for further information.
Further information
More information about any aspect of the curriculum can be obtained by contacting the school office and asking for curriculum details.
Information about the school's careers programme can be found here: http://www.pinnerhighschool.org/page/?title=Careers+Programme&pid=64