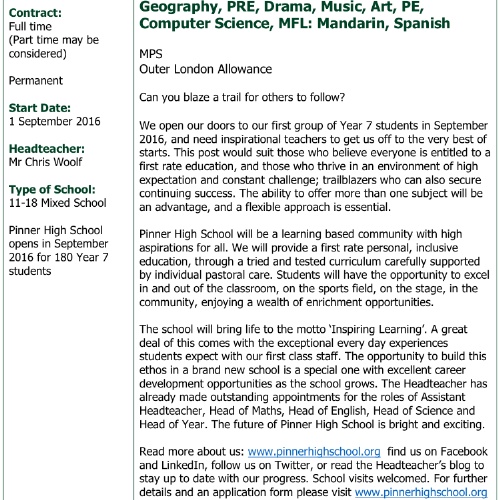 Now recruiting for Subject Teachers! Maths, Science, History, Geography, PRE, Drama, Art, Music, PE, MFL Mandarin, MFL Spanish, Computer Science
We are delighted to be have filled our teaching leadership posts - Assistant Headteacher (Inclusion), Head of English, Head of Maths, Head of Science, and Head of Year 7. These talented colleagues will support Mr Woolf in shaping Pinner High School and ensuring that our ethos, our curriculum, and our teaching, all match the expectations of governors and the community.
We have also recruited a first rate Director of Resources (who will lead all of our business and support services) who will start in the spring to be involved in our staff recruitment and in helping get everything ready for Pinner High's opening in September 2016.
We are delighted to be receiving applications for teaching posts now.
More information is available on our 'Staff Recruitment' page about working in our school.