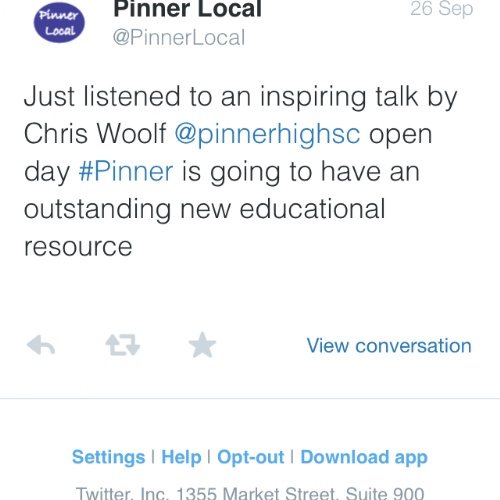 Thoughts on our first open event, and how we will recruit outstanding staff.
Our first open event on Saturday went extremely well. Thank you to everyone who came along. Feedback was very positive. I have always felt our facilities are impressive, and it is great to hear that so many of you agree. Built in 1937 as Pinner County Grammar School, the building cost £48,000. We are now part way through a £6 million refurbishment! An open event with no staff and no students is a bit of challenge, but families enjoyed visiting different parts of the school site and chatting to Governors. I was delighted that each of my three presentations was to a packed hall, and that 'Pinner High School: the movie' went down so well!
At every Primary School I have visited, as well as asking about the opportunities for students, I have also met local people interested in joining the staff at Pinner HIgh School. A number of people at open day asked about recruitment, and when I will start looking for the first group of teachers who will inspire our trailblazing students. I will be appointing a core of experienced staff as soon as I take up my post in January. An Assistant Headteacher will be the Coordinator of Special Needs (Senco) and my first appointment. I am also looking for an experienced Head of Year to lead the personalised pastoral care of the first year group, and experienced Heads of English, Maths and Science. They will then be able to establish their teams as the school grows. I have always very much enjoyed interviewing teachers, and talking to talented people about why they are passionate about working with young people. I am immensely looking forward to doing this for Pinner HIgh School. Given the very high level of interest in the school, I think the most difficult aspect of recruitment will be working my way through applications before I have appointed a team to assist me.
The second open event is on Monday 5th October, so if you were not able to make it on Saturday, I hope to see you next week.