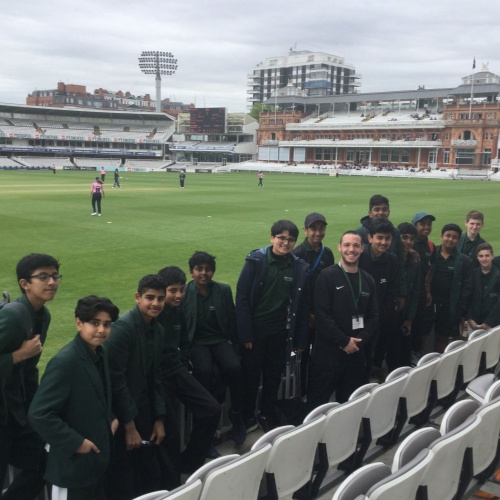 An action packed week: a visit to Lord's Cricket Ground, a visit from a Spanish theatre company, students at Watford FC, and our neighbours Cannon Lane triumphing in our annual Primary Maths Challenge.
'La Casa Encantada' was performed completely in Spanish by theatre company 'Onatti' to the whole school this week. Students were a fantastic audience, and the play was very visual to enable students who have not been studying the language very long to understand what was happening. There was even some audience participation, which went down very well with students! Students were also very attentive to speakers from 'Breaking the Cycle' who spoke to Year 8 about youth violence as part of the Q?rius programme.
Our Cricket team were part of a historic occasion this week: the first domestic women's game at the Home of Cricket watching Middlesex v MCC. They were part of the biggest ever crowd at a women's domestic game, and returned to school inspired to further develop their own cricketing skills. Our cricketing fixtures start shortly, and students are already practicing at lunchtime.
Sporting visits also took place last week, this time to Watford FC. Our 'Enterprise' group of students learnt about the business side of the club, as well as touring their facilities.
Our second annual Primary Maths Challenge, took place on Thursday when our neighbours Cannon Lane, were victorious over local rivals. We were delighted to have teams from Reddiford, Longfield, West Lodge and Cannon Lane taking part. The level of Maths was very impressive.
We had our sixth term check-up from the Department for Education this week, which went extremely well. They confirmed their high level previous judgements across all aspects of the school. This is reassuring, and they set some more challenges ahead of our expected Ofsted inspection next academic year. To help us prepare for this, I'd be grateful if families had a moment to complete Ofsted's Parent View: https://parentview.ofsted.gov.uk/login?destination=give-your-views This helps to build a positive picture over time, even though the inspection will be some months away. We have a waiting list of over 100 for September 2018, but we are not complacent about our reputation in our local community. If you have time to make a comment on the Good Schools Guide alongside the other positive reviews there, I would be delighted: https://www.goodschoolsguide.co.uk/schools/pinner-high-school-ha5-1nb We shall shortly be taking bookings from Year 5 families interested in our summer open morning on 14th June.