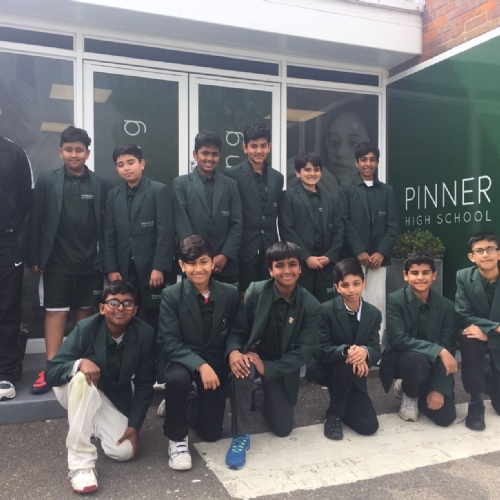 The Trailblazing Cricket team took to the field for the first time this week, keen to live up to the reputation established by our successful football and netball teams, who were winners and runners up in the borough tournaments. Competition for places in the team was very tough, but the spirit with which they play is very much as important as the results at the end of the match. Like the other teams earlier in the year, our debut match was successful, with a ten wicket victory over Ruislip High. Our netball teams scored victories over Nower Hill and Rooks Heath this week; it was pleasing to welcome them to our sports hall to use our first class facilities.
Some students attended a performance of 'Refugee Boy' at the Chicken Shed theatre this week, commenting on the power of the play. One of our fields was brought alive on Wednesday afternoon with the House Rounders competition: 6 teams playing simultaneously on 3 pitches. My thanks to the expert umpiring of colleagues and the enthusiasm of students. Finals will take place during activity week.
Preparations continue for our first activity week, beginning on 15th May. Parents attended an information evening about the PGL adventure part of the week, and with arts and sports sessions, as well as a workshop at the Heath Robinson Museum, it promises to be an even busier week than usual.
Governors have visited the school several times recently, seeing the students at work, speaking to them about career opportunities through Science Club, listening to 'Student Voice' sessions where they meet with Governors to talk, amongst other things, about things they like about the school and anything they would like to change as the school grows. Through these discussions and with an eye firmly on the future, students have started to create a 'Trailblazers Charter' to help our new students settle into the school in September. As our numbers will more than double, helping our students rise to the responsibility this will bring them is something we are working on all term. A draft of the Charter is attached below, please feel free to email in comments on it, as students continue to develop this with staff guidance.
As we are in our final term of the year, we are developing our school evaluation processes, and have our final Department for Education check up of the year in a couple of weeks. There have been 22 lesson observations this year, 6 of which were paired observations where a school senior leader observed the lesson with either a DfE adviser, or a Headteacher from the Harrow Academies Trust. Teaching has always been observed to be 'Good' or better, with a great deal of outstanding practice. This is a great position to be in, and I know the teachers starting with us in September will enrich students' experiences still further.
Interviews for our support staff posts take place next week, and as we are fully staffed with teachers for September, it is an exciting time to be a part of the school.