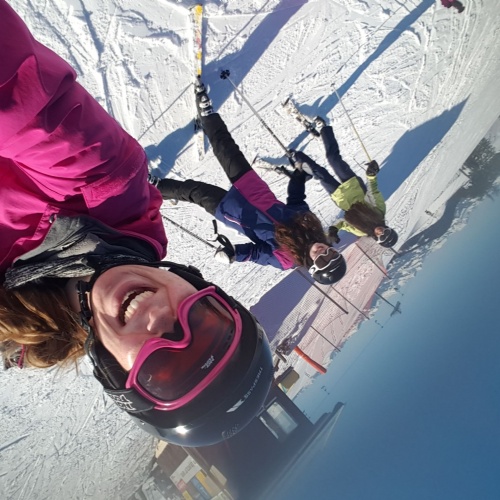 Our first international trip returned at the weekend, from a week's skiing in Austria. The group had a great time in the mountains with the students and staff of Nower Hill High School improving their technique on the slopes. They had some fresh snow during the week, and some sunshine too. We are busy planning our next trip for 2018!
The House Event this week was a Dragon's Den competition judged by Ms. Edens, our Travel Planner from Harrow Council. She listened to bids about heat sensors to avoid traffic accidents, an app to tell a bus driver you were in the area, but decided 'Globike' was the winner, for increasing the visibility of cyclists in the dark. Ms Edens noted the detailed research that had taken place, and the strong emphasis on safety in all of the bids. Congratulations to Bannister House on another House Event victory.
Homework Club this week was a practical activity to engage the students in planning for next year. Each form was asked to submit a proposal locating classrooms and offices from September as we gain an additional 7 classrooms on two new corridors next year, when we will have Year 7 and 8. Discussion was very passionate, and the plans submitted were perceptive and helpful. They will certainly inform the future development of the school.
Before the holidays we had our most recent 'Coffee and Chat', an informal occasion for parents to come and talk about school life and things that are going well, or need our attention. The event was very useful, positive and well attended. The notes are on our website for reference. The next event is on Tuesday 28th March at 2.30pm. We are holding an Information Evening on Wednesday 1st March to talk about assessments, as GCSEs will all be graded 9-1 by the time that our trailblazers take their exams. We'll also have an update on core curriculum subjects from the Heads of English, Maths and Science.
Next week families will find out if they have been lucky enough to be offered a place with us in September. Those that are will then be invited to come and visit us again on either 6th March at 4.30pm or 8th March at 7.00pm. We had an overwhelming 790 applications, and I am excited to meet our second year group!