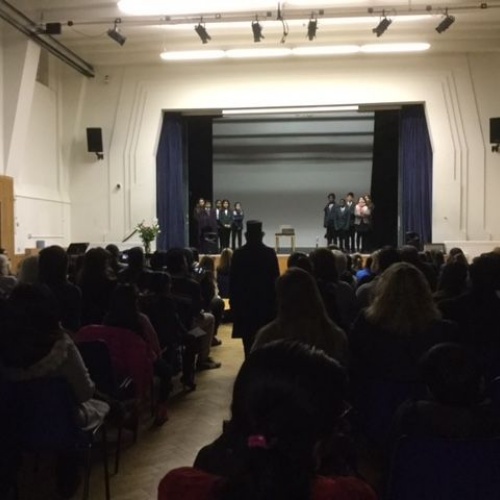 It was brilliant to welcome parents and friends to the school for our very first end of term concert. It was a very well attended event, with members of the audience treated to excerpts from 'A Christmas Carol' as well as festive music from the choir and soloists. As our first concert, we had a short extract from 'Make Believe' by AA Milne, which was the first show ever performed on the stage in 1939, when this was Pinner County School. All performers are to be congratulated on a brilliant evening. My particular thanks to the parents who volunteered through our embryonic Parents Association to serve refreshments at the event too. In the photograph above, Scrooge makes his entrance, complete with top hat, through the audience. At the end of the concert, one parent remarked that the team at the school are a 'credit to education, given all that has been achieved in just three months.' Great feedback to receive at the end of our first term.
Of course the concert was not the only event of the week; the 'Bike It' Club had their first trip to the park with Sustrans, who have been working with us on sustainable transport around the school. The environmental club are in the final stages of planning their assembly for the school, and we enjoyed a delicious Christmas Lunch, organised by Chartwells, our caterers. We were delighted also to welcome Matt Cousens, golf professional at Bushey Country Club, who led some golf taster sessions for every student, and will be offering golf as an after school activity in the new year.
Good news from Harrow Planners this week, who have agreed to the temporary classrooms from September 2017-July 2018 for Avanti House, that means they can return an additional corridor to us for our growing school, as we welcome our second year group in September. I have also made a couple of early appointments for some very well qualified teachers who will join us next year. So a very Happy Christmas from Pinner HIgh School- Christmas Jumper Day on the last day of term on Wednesday- and as 2016 draws to a close, there is a great deal to look forward to in 2017.