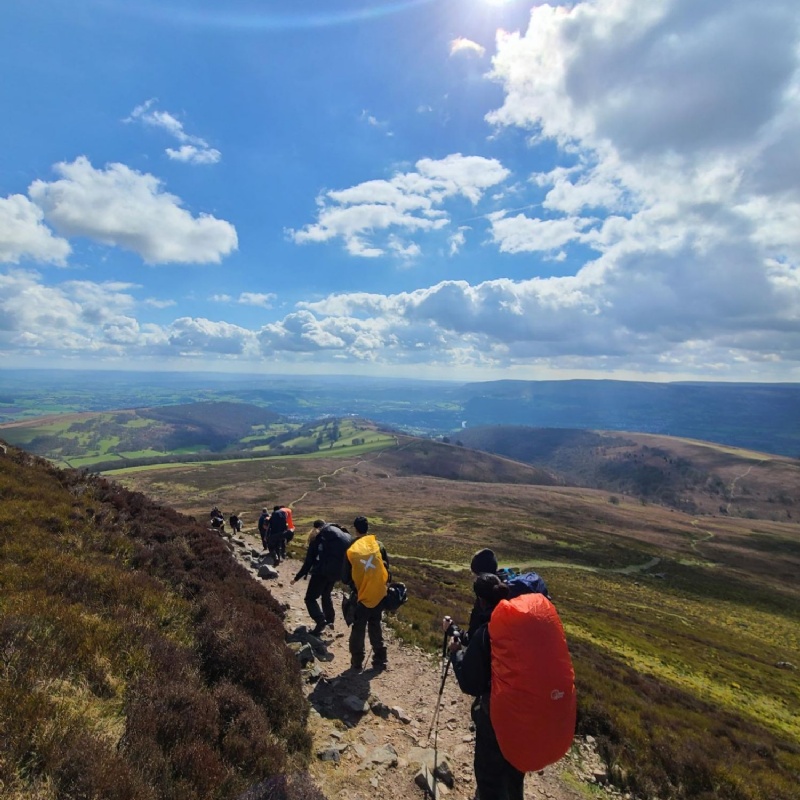 Duke of Edinburgh Gold
Seven Sixth Form students successfully completed their Practice Expedition - this involved four days of hiking and three nights of wild camping in the Brecon Beacons of Wales. All students showed excellent team work, adapting to varied weather and maintaining a positive attitude throughout the expedition. The photo above shows them around the cairn - their final summit on top of Sugarloaf Mountain on Day 4. Students will be completing their Qualifying Expedition in June.
Year 13 University Cooking Preparation
Sixth Form students participated in a 4 week cooking class, involving how to budget with simple ingredients whilst creating bulk meals. During Masterchef week the students were given a budget of £5 to serve 4 and make a creative fit for a student meal. Well done to the winner A Parmar!Huge thanks to Miss Moore for giving up her time to teach them safety rules.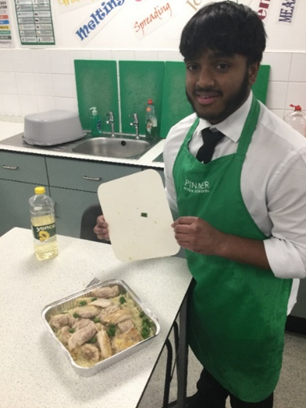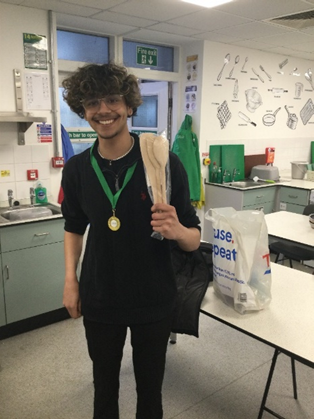 Success Stories
Congratulations to Year 12 student C Oppong-Boaheng who has been offered a place on the St John's Inspire Programme. A huge field of entrants led to a competitive selection process and being offered a much coveted place.
Congratulations to year 12 student J Cruz on being accepted on to an extremely competitive Target Oxbridge Programme.
Congratulations to Year 11 student T Tam who has been awarded a music scholarship for Year 12.
Congratulations to a Year 9 student who has been accepted to Brit School!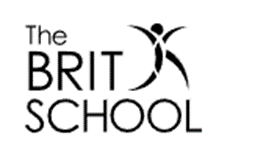 Maths
Congratulations to Year 10 student R Kullar! He has been awarded a Certificate of Merit for the qualifying round from UKMT Intermediate Maths Challenge.
Year 10 Maths Feast Competition 2023
On Friday 24th February we took 8 Year 10 students to St Dominics for the Year 10 Advanced Mathematics Support Programme Maths Feast.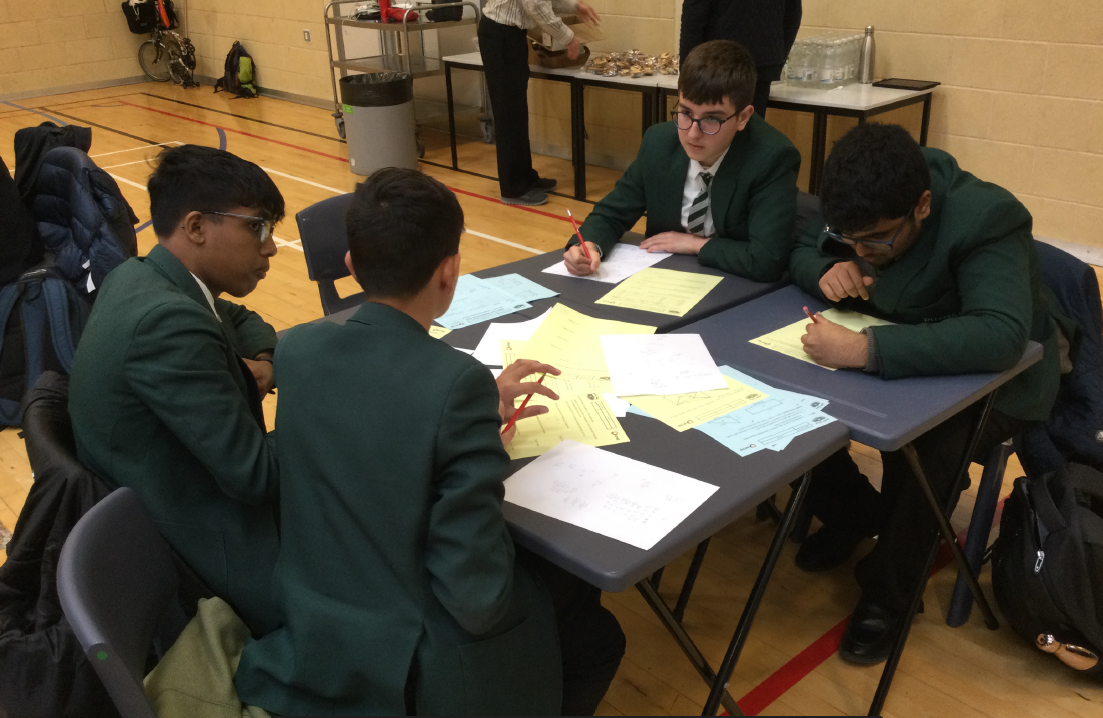 This was competing in teams of 4 against other schools in London and the South-East of England. The students showed such amazing teamwork, even congratulating each other 'well done' when a participant of the team achieved the correct answer.
The team of Aarugen Mathivathanan, Drish Pillai, Marbi Hasula, and Pritam Kalsi came 6th, and Ilayda Brown, Seerat Gandhok, Anya Topan and Delani Sathiyabalan came 8th.
An asset to the Pinner High School Maths Department.
Science
Girls Physics Tournament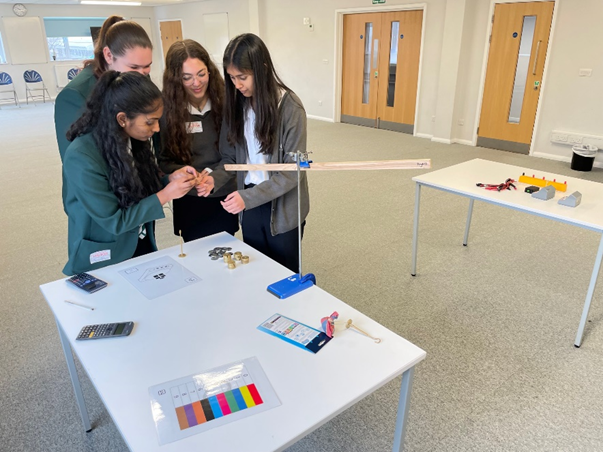 Some of our top Year 10 female Physics students competed in an all Girls Physics Tournament held at St Helen's School. Students: H Nandha / D Sathiyabalan / Z Swiatek and L Aqbarawi showed incredible resilience, teamwork and critical thinking skills to solve challenging physics problems and perform practical investigations. The Physics themed escape room was a particular highlight. Performing exceptionally well, the girls came fourth overall, being ranked the top state school.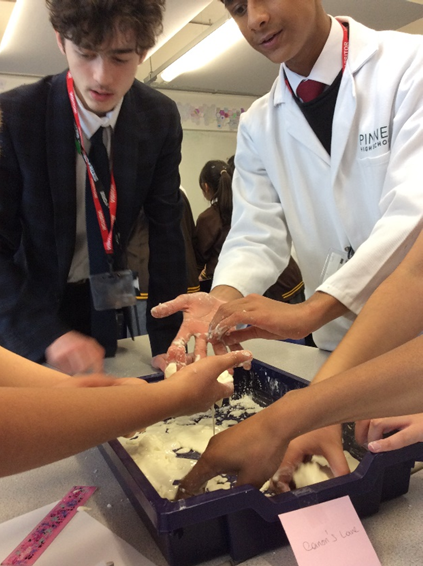 The Science department hosted 120 students from Cannon Lane Primary School, introducing them to our Science labs. GCSE chemistry experiments took place, as well as a Harry Potter-themed flame test challenge and testing for hydrogen gas and carbon dioxide.
Celebrating International Womens day
Young Women in STEM and Cyber
Some of our female Computer Science students in Year 9 and Year 10 attended the Young Women in STEM and Cyber event at the National Museum of Computing. An excellent day was had by all, exploring the exciting world of STEM and Cyber. Students were able to get hands-on with facial recognition software, crack encrypted messages, code secret messages in jewellery, discuss ethical hacking and delve into the history of encryption. They also used their data analysis skills to explore the statistics of women working in STEM subjects over the last 50 years. All students were exceptionally well-behaved throughout the day, demonstrating the Pinner High Values of respect, responsibility and resilience. They all embraced the challenges of the day!
Music
Some Year 7 students visited The Royal Albert Hall for a 'behind the scenes' tour and to watch a rehearsal performance of a band (who were performing later that night). A Music and Science workshop followed and an excellent day was had by all.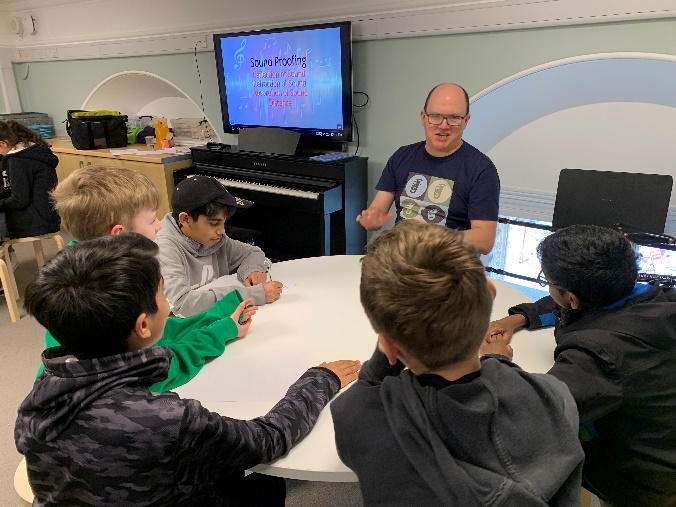 Business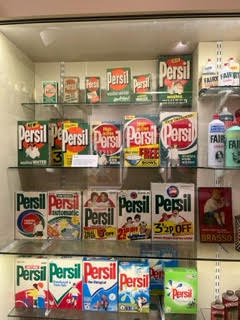 Our Year 12 Business students visited the Museum of Brands to learn about branding and packaging. They explored 200 years of consumer culture and studied the time tunnel to see how products and consumer tastes have evolved. It was fantastic to see the students applying what they have learned in lessons on branding and marketing to the real world.
Inclusion
The Inclusion Department were excited to welcome Chris Painter in to complete workshops with some of our students in Years 7-12. Chris Painter is our Autism Focus guest speaker who also has a diagnosis of autism himself. Chris is a role model for our neurodiverse students and parents and talks about his challenges while in the school system and how he has overcome many barriers to become a successful film and TV stuntman as an adult.
Sports - Update
Year 10 boys football team have progressed to the Harrow Borough semi final for the 2nd year running following a resounding 4-1 thrashing of Nower Hill in the quarter finals.
Year 9 boys football storm into the finals beating Hatch end 8-3, with the final matches held after the Easter break.
Year 8 vs Year 9 inter house squad netball match - Year 8's fought incredibly hard and after the first half were only down by 1 goal but Year 9's dug deep and demonstrated their breadth in knowledge and skills to take the win 14-7. Well done to all!
Charity News
Hillingdon Food Bank is a charity organisation in the London Borough of Hillingdon. The food bank relies on donations from the community to provide emergency food supplies to those in crisis and unable to afford food. One of the recent donations to the food bank was from Pinner High School, which donated 64kg of food.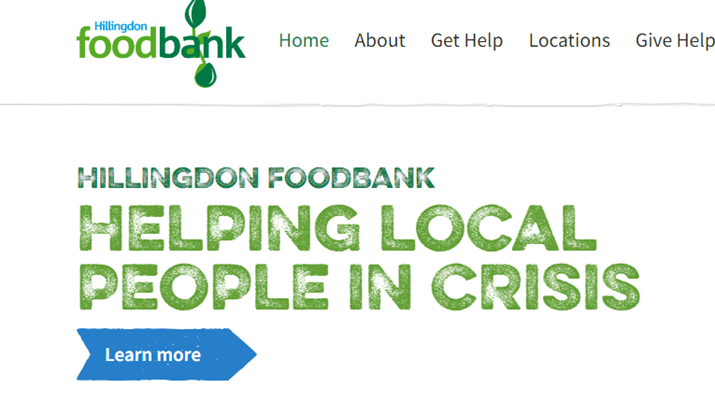 The contribution made by Pinner High School to the Hillingdon Food Bank is an excellent example of how individuals and organisations can make a difference in their community by supporting a food bank. The food donated by the school will go a long way in providing meals to individuals and families in need.
A bake sale organised by Year 12 students, led by J Dualeh, raised £248 for the earthquake disasters in Turkey & Syria.