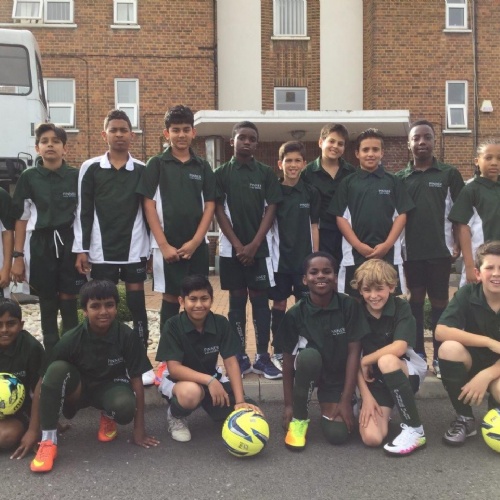 This week's photograph is one for the scrapbook: Pinner High's first sports fixture! As well as this, this week I have enjoyed visiting a range of Primary schools and had my first coffee afternoon with parents. I also had fun showing off the students to Dame Reena Keeble, one of my illustrious Governors and former Head of Cannon Lane Primary School.
Our sporting career began victoriously in the boys tournament of 16 teams at Nower Hill. The 'A' team were unbeaten in the group games, lost a tight semi-final to Hatch End, and then won the the third place playoff on penalties. The 'B' team were runners-up in their group. All students involved were fabulous ambassadors for the school, exhibiting the Pinner High School Values, regardless of the result on the pitch. It was a memorable occasion. The girls event is in a few weeks time. If there is anyone who would like to sponsor our kits, I have promised the team they can be involved in designing it. Do get in touch.
Primary visits are always fun, and I have had warm welcomes at West Lodge, Cannon Lane, Newnham, Field End and Harlyn schools in the last couple of weeks. There is clearly lots of interest in the school, which is always pleasing. Our Open Day is on Monday 3rd, 5-8pm, when I hope to talk to even more families. The whole of Year 7 form the 'Trailblazers Choir' who will be making their debut.
Congestion busting week, starts on Monday, with a range of activities each day. Thursday will be the 'walking zone' event, when families will be asked to drop children off further from school to get them used to walking. More details of this will follow.
Many thanks to all those who came along to the coffee afternoon. There were lots of questions and ideas, and I have tried to capture them below so that any families who missed out can catch up from the notes. Have a lovely weekend.