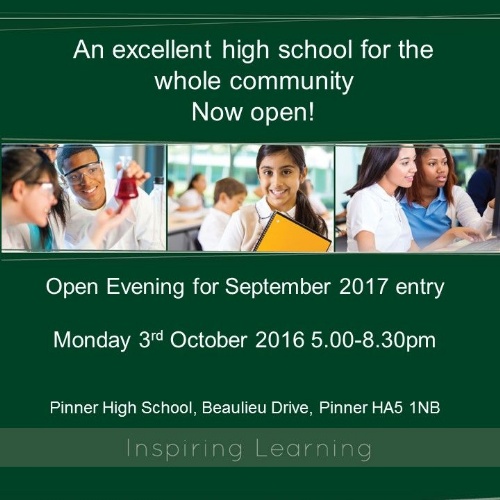 A brilliant week at Pinner High School: a House Relay win for Ali House, a fabulous first school trip, and some edible homework stand out as highlights.
The House competition was finely poised at the start of the week, but Ali have now pulled ahead with their second win in three events. The House Relay involved teams running, hopping, skipping and wheelbarrow-ing across the sports hall in quick succession. The support from those watching was a big part of the event, in a very collaborative atmosphere. House events bring life to the Pinner Values really effectively: the values of our first two weeks, Kindness and Collaboration showing this really well.
The Value this week is Balance, which seems an appropriate choice as the whole school spent yesterday at the Hillingdon Outdoor Activity Centre (HOAC). Learning takes place in so many ways, and seeing students stretching themselves on high ropes or raft building made balance even more apt! Most of the rafts floated successfully, though those on rafts that did not reported that the water was cold. The afternoon Games Circuit proved very competitive, and despite demands for a recount, I am pleased to report that the Headteacher's group emerged triumphant! All students who attended yesterday have now completed the first part of the Outdoor Adventure element of the Head's Challenge.
Another aspect of the Head's Challenge is Charity Work. Today is Jeans for Genes day, during which we will have raised nearly £200 for charity as students and staff donated £1 to wear their jeans to school. They have been learning about cells in Science, which led to the edible homework: cake and jelly in the shape of different parts of the cell. This morning one student even made the connection between 'Wonder', genetics and today's event.
Looking further ahead, students will today bring home details of the 'Trailblazers Choir' performances at Open Evening on 3rd October of which they are all a part. Families may also want to be aware of the individual photos being taken on 30th September, and the whole school photograph scheduled for 18th October. Details of February's ski trip in collaboration with Nower Hill, to whom I am very appreciative, will also be coming home. The Pinner High School Values run deep.