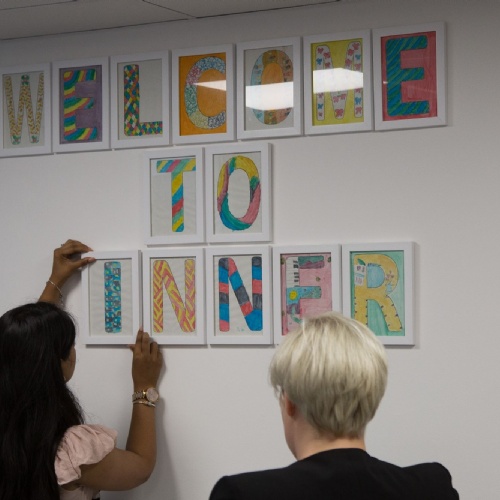 A memorable week! It has been brilliant to see Pinner High School come to life so spectacularly. There have been new highlights every day in our week of firsts: first House Event, first Homework Club, first Headteacher's Challenge Clubs.
Ali House triumphed in our first House event, the Tug of War. The sports hall was filled with noise, and every student took part for their House. Whilst Ali take a lead in the House competition, Bannister and Malala are in hot pursuit. The House theme continued into the first Homework Club, with students first researching and then writing to the person their House is named after. They will then have the creative opportunity to build from arts and crafts materials a house that reflects the values of their namesake. I am looking forward to seeing these. The first club afternoon on Thursday was an opportunity for students to hear about each activity, and then decide which two they would like to join. There are 16 options: mindfulness, basketball, gymnastics, drama, karaoke, reading, international food, environment, football, netball, Spanish, choir, creative writing, debate and guitar. Clubs are spread across Mondays and Thursdays.
Next week we have our Welcome Evening for parents, starting at 7.00pm on Thursday 15th September. This will be an opportunity to meet your child's form tutor as well as other parents in your child's form. There will be brief presentations on helping your child in English, Maths and Science, as well as more details of the trip to Hillingdon Outdoor Activity Centre.
Thanks to all families for making drop off and pickup run smoothly. 'Dr. Bike' will be here on 5th October to check any student and staff bikes are safe, to encourage even more cycling to school.
Although the term has only just begun, we have had lots of enquiries about admissions for 2017. Our open day is Monday 3rd October, from 5.00-8.00pm. Students in Year 7 will be involved in a whole school choir- watch this space!
In my assembly on the first day of term I set all students the target of doing something new to challenge and stretch themselves at Pinner High School. My challenge this year is going to be to learn to juggle, physically as well as metaphorically. I borrowed some juggling balls from my daughter to show students that I cannot yet accomplish this, but that 'yet' is the key word. They too will find things that they cannot do- yet. But just as I will learn to juggle, they will meet and surpass their targets. It has been an action packed week, with so much more to come.