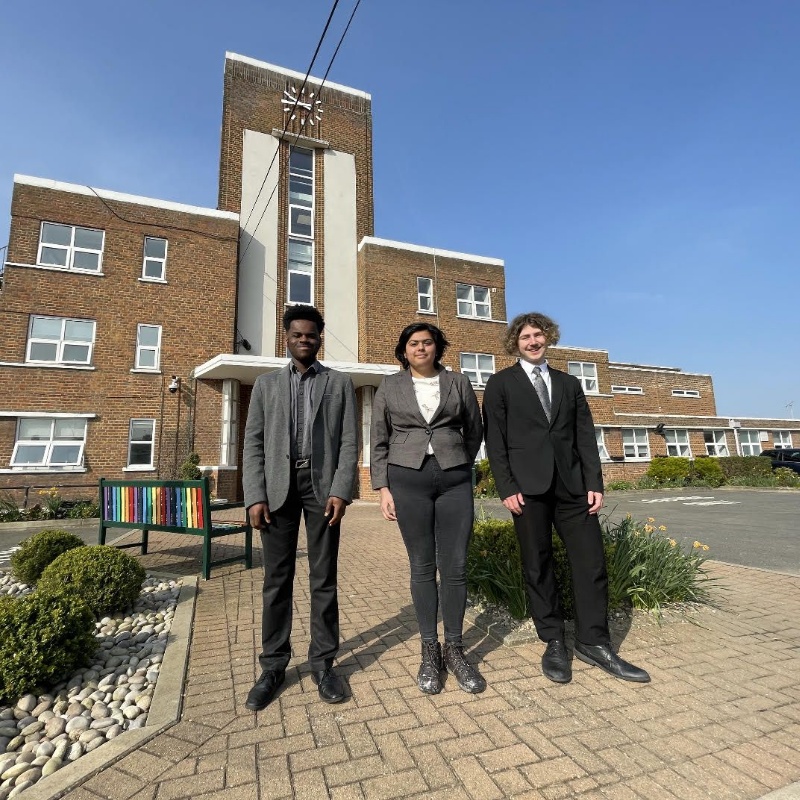 Another milestone to celebrate with our first Head Students! They were elected to their positions just before the holidays. It was a very competitive process, involving an application, an interview with me, one of our Governors, and our Head of Sixth Form, and a short film to share with the school community to help everyone hear more about each candidate's ideas. Each selection panel was clear that we had an exceptionally high quality field, but three students stood out, so Najah, Alex and Nathan are our first Head Students. Congratulations! They each wanted to introduce themselves in their own words.
Nathan says: "As one of the Trailblazers at Pinner High, I can't believe how far we've come from our first ever assembly in Year 7. I remember sitting in the Pinnacle, nervous, as I didn't know how secondary school life would turn out in this new school. However, when I look back now I don't know what I was worried about. I've loved it. I always enjoyed participating in school life; the school production- Bugsy Malone in Year 7 was a highlight- rugby team, football team and lots of other activities. I am committed to using my position to help other students blaze their trail so that everyone can have a journey like mine."
Alex tells us: "I'm extremely excited to be elected as one of the very first Head Students for Pinner High School, and I feel very thankful to all the students, teachers and support staff who have trusted me enough to make this happen. I will work the utmost with my peers to create an even more enjoyable school environment! The whole process to becoming one of the first Head Students was extremely enjoyable, with it really putting me through a range of experiences including a formal interview. It was a truly unique experience which I'll bring with me in my future and am really proud to have been a part of."
Najah says: "I am honoured to be one of Pinner High School's very first Head students. I believe that everyone who has become a part of the student leadership team is dedicated to their cause and it will be a pleasure working alongside them. I have already begun working on a fundraiser with my Diversity and Inclusion teammates, so please do look out for ways to get involved in our projects. I'd like to thank everyone who has cheered me on in this endeavour, and those who came to me in the school to tell me they liked my Head Student video, or to congratulate me after the vote. Those wonderful words mean a lot to me and I can't wait to make meaningful changes at our school."
Pinner High School is lucky to have such outstanding young people in our community, and it is a pleasure working with them.