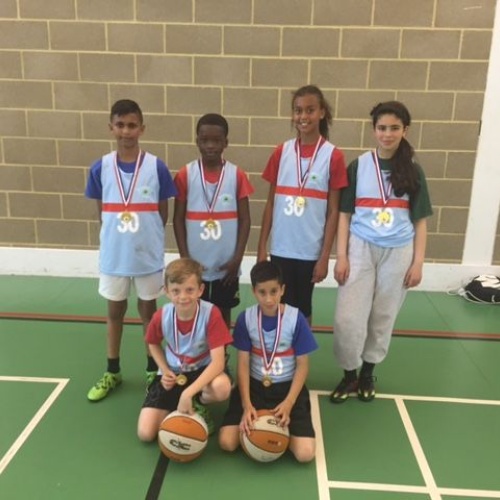 A brilliant first week back after the half term break: our Ofsted Inspection, hosting the London Youth Games Basketball tournament for local Primary Schools, meetings with the EFA, more primary school visits and useful conversations with the Harrow Collegiate Teaching Schools Alliance, and as well as all that, positive feedback from the Department for Education's 'Readiness to Open Meeting.'
The DfE ROM confirmed everything is on track with the school development- as it should be- but it is always good to have this rigorously and independently confirmed. Ofsted then conducted a very thorough review of processes, and will publish feedback later in the year. They judge whether a school is likely to be 'Good' or better upon opening, so I shall share their judgement when it is available.
The highlight of the week was certainly seeing our sports hall filled with students from West Lodge, Roxeth, Pinner Park, Norbury, Welldon Park, and eventual winners Whitchurch, pictured. All students represented their schools impressively. Thanks to Avanti House for being so accommodating for the event.
The EFA and architects presented plans for the next phases of refurbishment over the coming years, which will ensure the facilities continue to be upgraded as the school grows. The plans are now being developed in more detail, and I look forward to sharing them in due course. The current refurbishment programme continues to be on schedule, despite the torrential downpours!
I enjoyed visits to Coteford, Cannon Lane and West Lodge this week. I look forward to welcoming all parents who have children joining this September to Pinner High on Thursday night. The aim of the event is to ensure a smooth start for everyone in September, and I'll be talking them through our Parent Guide, and sharing our plans for the Transition Induction Day on 29th June when all the children are with us for the day. The first edition of our school magazine arrives the same day, so I'll be sharing that too. Watch this space for the e-version!