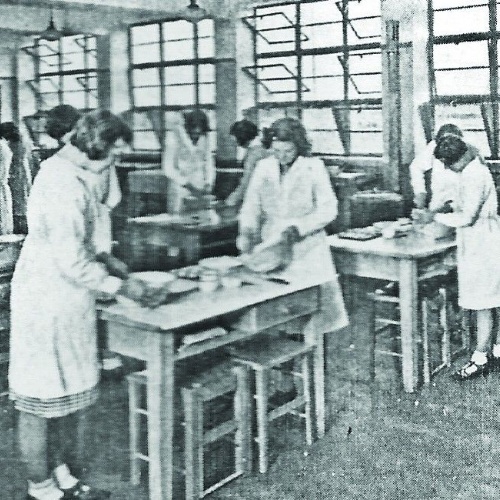 As constructions starts on our new Design Technology facility next week, it seemed appropriate to share the image above from a 1950s Pinner County Grammar cookery lesson. Former students from this school attend a reception every year at Beaulieu Drive, and I look forward to meeting them next week, and talking through the transformation the school is currently undergoing.
Before a new school can open, the Department for Education conduct a 'Readiness for Opening Meeting' with the Head, Chair of Governors and Chair of Trustees. It is an important milestone in the development of Pinner High School. There is a good deal of correspondence in advance of this meeting, which is scheduled for the end of May. In the course of this information exchange, Pinner High was referred to by the DfE as a 'low risk project'. They are right, of course, and this is an excellent endorsement of the strong level of local support, and the high level of recruitment of students and staff.
The local support has been evident in several meetings this week: firstly at the Harrow Chemistry Hub meeting led by the University of Hertfordshire and the Royal Society of Chemistry funded by the Mayor's Fund for Excellence in Schools hosted at Harrow High. Science teaching is going to get off to a flying start at Pinner High, and this high level support is a great benefit to all schools. I also had a very enjoyable time attending the Alternative Provision conference at The Jubilee Academy, learning more about the important work they do. Jubilee are currently on site at Beaulieu Drive until July. Their own building project is proceeding ahead of schedule, which is excellent news for all involved. More local support was evident from the Harrow Music Service who came to visit this week. It was great to plan the highly regarded music tuition they will be able to provide. We also discussed workshop ideas, and perhaps the first performance opportunities for the first students at Pinner High School. Watch this space for more developments!