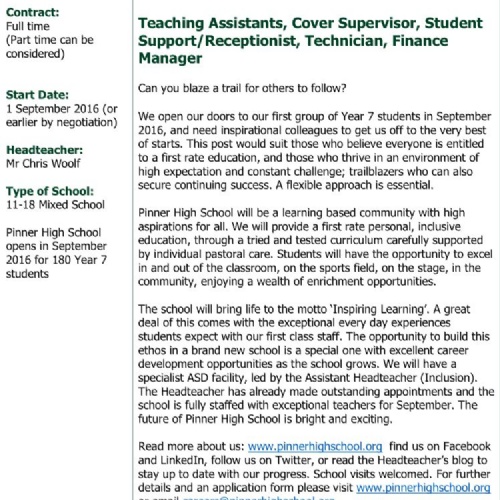 With just a small number of student places remaining for September, I am delighted to be back after Easter in the final pre-opening recruitment wave. I am pleased to be able to tell you more in this blog about the most recent five colleagues who will be joining me in September, as well as starting recruitment for our Teaching Assistants, Cover Supervisor, Student Support/Receptionist, Finance Manager, and Technician. Application packs are available now on the school website.
The teaching colleagues joining me are all excellent classroom practitioners who will bring the school motto 'Inspiring Learning' to life. I am delighted they will be part of the team:
Teacher of PE: Ryan Surridge
Ryan graduated from Brunel University with a BSc in sports and exercise science before completing his teacher training qualification at the Institute of Education.
He started his teaching career at Canons High School in Edgware as a PE teacher before moving to become a senior teacher at Harris Academy Aspire, part of the Harris Federation. There he rose quickly to lead the Physical Education department. He created a successful and well-rounded PE curriculum in a brand new school giving his students access a wide range of sports and physical activities. He was an independent verifier for externally assessed examination marking and was in charge of all vocational courses for Harris Aspire.
Ryan's enthusiasm for physical education is contagious. He comes to Pinner High School to develop an inclusive, safe and enjoyable atmosphere in PE. He aims to provide students with the physical, social and psychological skills to develop their own life-long relationship with sports. Ryan has been a successful youth football coach in the local community and currently plays competitively for a local club in the Middlesex County Leagues. He also has a new born son, who takes up the rest of his free time.
Teacher of Spanish: Susana Fernandes
Susana studied at the University of Wales as well as Portsmouth University where she had the opportunity to study in Bologna, Italy and another year in Granada, Spain. After graduating in Spanish and Italian Studies, Susana worked for seven years in two multinational companies using her linguistic skills. She successfully completed a PGCE at St. Mary's University College, London and she has since been teaching Spanish, French and Italian as well as conducting OCR Portuguese speaking exams in secondary schools. Susana likes to teach in the target language, miming, promoting spontaneous speaking, bringing culture to life in the classroom in a fun environment.
During school holidays she likes travelling to Portugal where her family reside. Susana enjoys Latin music and dance, especially flamenco, salsa and merengue. She enjoys travelling, and has recently been to Peru, Colombia and Brazil. Susana will also be teaching at Nower Hill High School in September.
Teacher of Mandarin Chinese: Yen-Chiao Fang
Yen-Chiao graduated from National Kaohsiung Normal University in Taiwan with a BA in English Language before he started his teaching career at a Junior High School in East Asia. He wanted to study further and see more of the world, so completed his Master's degree at the University of Bristol, where he gained a First Class MEd in Counselling in Education.
Yen-Chiao is keen to introduce the culture and history of China to his classroom, as well as the Chinese language. He is currently completing his PGCE in MFL Mandarin and EAL at the Institute of Education and is very excited to join Pinner High School. With the experience of training in his two successful placements, St Joseph's College and Putney High School, where both of the schools have strong teams in teaching Mandarin, he aims to create a vibrant and inspiring atmosphere for learning Mandarin at Pinner High School.
Teacher of Drama: Amanda Elliot
Amanda grew up in Pinner and attended Cannon Lane Primary School and Nower Hill High School. She went on to study Performing Arts at Amersham and Wycombe College and then the Central School of Speech and Drama, gaining a Post Graduate Diploma in Acting and Musical Theatre, with Distinction. After working professionally for several years, Amanda decided her real passion was for teaching and has worked in education for the last twelve years. Amanda studied Shakespeare and Children's Literature with the Open University and gained a Bachelor of Arts, with Honours, and has just been graded 'Outstanding' when awarded Qualified Teacher Status. She currently works at St Clement Danes School as a teacher of Drama and prior to that at Chesham Grammar school.
Amanda also has a great deal of experience teaching and directing for Youth theatre groups and has worked as a LAMDA teacher for several years. She currently runs a Youth Theatre organisation in Rickmansworth and her production of Peter Pan was nominated for the NODA London region Youngstars award last year. Amanda recently directed an open-air production of A Midsummer Night's Dream for the Rickmansworth Players and enjoys performing with the society (when she has the time!) Her most recent role on stage was as Mrs Cratchitt in Scrooge and prior to that, Maria in The Sound of Music.
Teacher of Humanities: Hannah Lowder
Hannah graduated from Nottingham University with BA Hons in Theology. She then went on to gain her QTS at St Marys University and has been teaching ever since. Hannah is currently teaching Religious Studies and History at Guru Nanak Sikh Academy, Hillingdon and has had the responsibility of developing new, inclusive and inspiring schemes of learning for her students. As well as teaching Humanities, Hannah is also Deputy Head of Year 9. This position enables Hannah to further develop her teaching in order to support every student she encounters. She looks forward to contributing to the House system of pastoral support at Pinner High School.
Hannah is a keen traveller uses this as an opportunity to further explore different traditions, cultures and religions around the world. She also has a keen interest in the arts and uses many musical and artistic influences in her teaching. Hannah is extremely excited to join Pinner High School and immerse herself in the wider community.
I received almost 300 applications for the 10 posts that are now filled, and I'd like to thank each one of those candidates. I know how much time and effort goes into preparing an application. At a time of recruitment crisis in many schools, I am utterly overwhelmed with the quality and quantity of those who want to contribute to our journey. Plenty more very engaging opportunities will be available in the years ahead. The search continues: as well as the current support staff adverts, recruitment for colleagues starting in September 2017 will begin in December of this year.
It's an exciting time to be a trailblazer!