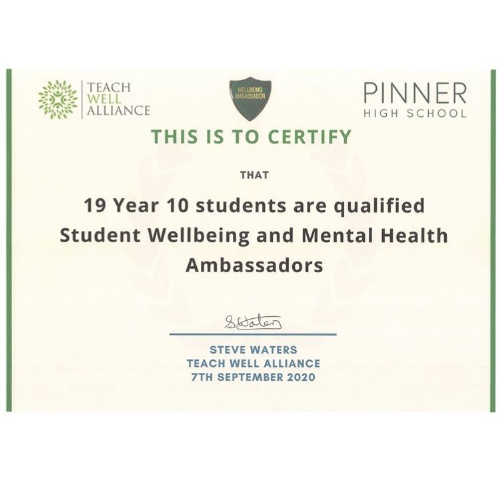 I was delighted to receive the certificate this week acknowledging our Year 10 Student Wellbeing and Mental Health ambassadors. We have a group in Year 11 who were trained a year ago, and with the challenges of the last few months I was keen to have an even larger group trained this year. 19 students gave up their time at the end of the summer holiday to come in to school during the inset days before term started to complete the course. The trainer was very impressed at the way the students engaged with the blended learning. My thanks to them all. The challenge now is using these skills across the school whilst maintaining the year group bubbles. We are working on this!
Also working on some problem solving are our refurbishment contractors, B&K, who continue on the new schedule to complete another dozen classrooms ready for us to move into during the October half term break. This includes another 4 brand new Science labs, which look phenomenal. I am very excited to show our Year 11 students these spaces, as this is where their new bubble will be after half term. I will share more detailed plans of the changes that are still to come over the next few weeks as we continue to benefit from even more first class facilities.
Thank you for the messages of support we have received over the last few weeks. It was great to see so many families on our Year 7 virtual welcome event last night, and I look forward to working with you over the months ahead.