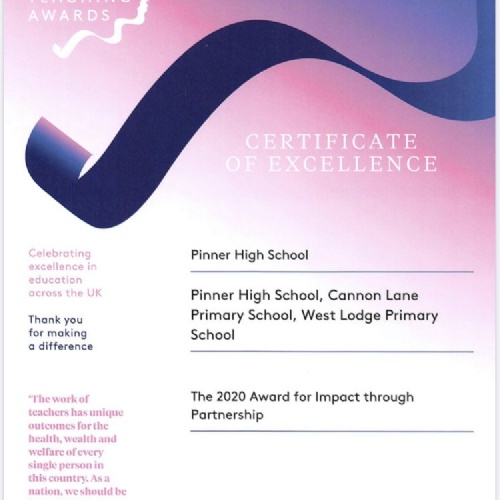 This has been a challenging term, so it is lovely to end it with news of four awards recognising different aspects of school life that we have received over the last few weeks.
Pinner High School was awarded the Investors in People Health and Wellbeing Gold Award, the Eco Schools Silver Award and has two Pearson National Teaching Award Certificate of Excellence winners; the Mandarin department in the 'Impact through Partnership' category for their work with Cannon Lane and West Lodge Primary Schools, and Mr. Maran Dhannie, who leads our autism provision, for 'Excellence in Special Educational Needs'.
I am so proud of our Mandarin team and Mr. Dhannie for being recognised in this way. We are an inclusive school for the whole community, and these awards all arriving simultaneously captures that really well. Our commitment as an Eco School is an important one as we look to play a leading role in sustainable education programmes as we all emerge from the last few months. Starting a rigorous wellbeing accreditation programme through the Investors in People award during a pandemic felt rather foolish, but to have jumped a level straight to Gold is brilliant news. It shows how hard my colleagues have been working together to build a school as it should be, rather than as it has always been.
Students are the ones who benefit from this, as everything is always centred around them. They are the measure of success in any school, and many of my colleagues have been touched by the comments many of them have received from students through Google Classroom thanking them for all they have done at a distance.
We are so grateful for the support of our community throughout. It is not something we take for granted. There are plenty of things we are developing further, of course, and we look forward to returning to these in September. Before that, I know we all need a break, some time away from our screens, and a chance to re-energise for the challenges ahead.