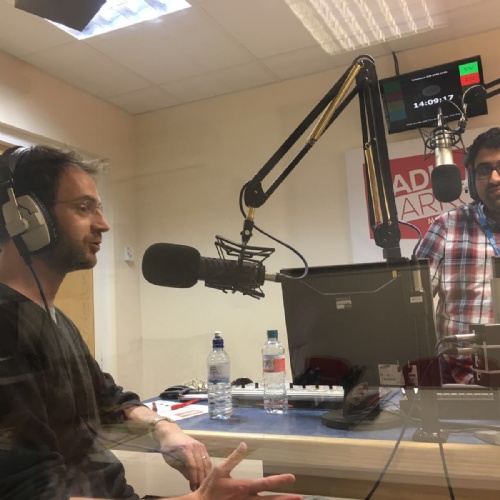 I very much enjoyed the opportunity to talk about Pinner HIgh School on Radio Harrow on Saturday. Shrey Puranick and Tony McNab were excellent hosts. Click the link below if you missed it!
http://www.mixcloud.com/RadioHarrow/interview-with-chris-woolf-on-the-radio-harrow-sport-show/
This week I am delighted to bring you details of my first five teaching colleagues. I know they will bring life to the school motto 'Inspiring Learning'. Many families will be awaiting news of their secondary school offers this week. Fingers crossed!
Head of Maths: Harshini Selvendran
Harshini graduated with a First class BSc Mathematics Degree from the University of Greenwich. She based her dissertation on 'teaching fractions through games' which led immediately into teacher training. She trained at the Institute of Education, where she is now in the final year of her MA in Mathematics Education.
Harshini knows the local area well, as a student at Stag Lane Primary School and Bentley Wood High School. She is currently Key Stage 3 Maths Coordinator at Canons High School.
Aside from Maths, her other passion is learning the fine art Bharathanatiyam (South Indian classical dancing) in which she has successfully completed her Grade 8 teaching diploma. Harshini is extremely excited about this opportunity and looks forward to building a Maths department that challenges and engages students and makes the transition into secondary school an accessible and exciting step.
Head of Science: Sumalani Reddy
Su trained as a Physiotherapist and Science Teacher at Brunel University before starting her teaching career at Sir William Ramsay School in High Wycombe. At this school she built her career from Newly Qualified Teacher to Academic Leader for Years 7 and 8 before becoming Deputy Head and then Head of Science.
Living locally to Pinner High School allows Su to work with the local community. Outside her passion for teaching, Su is keen on staying fit and traveling the world. Su hopes to shape her lessons in a variety of different ways, and where possible use real life examples from her travel escapades and stories as a physio. Su relishes the opportunity to build a highly successful Science department at Pinner High School.
Head of English: James Allaway
James graduated from The University of Leicester with a BA in English where his interest in war literature and Anglo-Saxon texts convinced him to pursue a teaching career. With the birth of his first child, James developed a keen focus on learning which led him to join the Graduate Teacher Programme as an opportunity to instil a love of reading in young people. Following his NQT year, James was promoted to the role of Literacy Coordinator and became Leader of Key Stage 3 English at Francis Coombe Academy where he embedded active participation with a variety of texts into the curriculum. James joins us from The Cavendish School, where he is the Assistant Curriculum Leader for English.
James is also a GCSE examiner, a Local Authority Governor for a Hertfordshire primary school and a Beaver Scout Leader – all roles which complement his core beliefs around inclusive and holistic education. When he is not teaching or reading, James can be found walking in the woods with his wife and three young sons. He is thrilled to be joining Pinner High School and is excited by the prospect of building an outstanding department with excellence and a passion for language and literature at its heart.
Head of Year 7: Emma Pacey
Emma graduated with a BSc Hons in Human Ecology from Bath Spa University where she also completed a PGCE in Design and Technology.
She started her teaching career at the school she attended as a pupil, Nower Hill High School, Pinner, where she taught Food Technology for 2 years. She relocated to Walsall, West Midlands, and was promoted to Teacher in Charge of Food Technology and taught for a further 2 years before returning to Nower Hill.
Emma has taught a Nower Hill for the past 16 Years in roles as Head of Food Technology, Head of Year and most recently has Head of Technology Faculty. She was Head of Year 7 when Year 7 was first introduced to Nower Hill. She has thoroughly enjoyed these roles and is looking forward to the next exciting chapter of her career at Pinner High School.
Emma lives locally with her husband and has 2 young boys who keep her on her toes and up to date with the most recent developments in the world of Lego. Emma is a keen netballer and member of the Breezers Netball Club.
Assistant Head (Inclusion): Jennie Smyth
Jennie had her first taste of teaching volunteering with Raleigh International at a school in Ghana. She took up her place at Edinburgh University where she gained a First Class MA (Hons.) in English Literature. At university she was involved in volunteering programmes, as part of 'Edinburgh Global Partnerships' a student led international development charity.
She was keen to pursue a career in teaching, and joined the TeachFirst programme and was placed at Rivers Academy as an English teacher. She completed her PGCE there with Canterbury Christ Church University. Jennie has enjoyed developing her experience in a range of roles at Rivers Academy, part of the Aspirations Trust, before becoming the Special Educational Needs Coordinator (SENCo), and Associate Assistant Principal. She currently has SEN leadership responsibilities across 4 schools in the Aspirations Trust. She completed the National Award for SEN qualification through the Institute of Education with a focus on literacy support for secondary school students.
When she is not in school, Jennie loves reading, crafting and travelling. Jennie is very excited about the inclusive ethos of Pinner High School, leading SEN in the school, and setting up first class provision for students on the ASD spectrum.