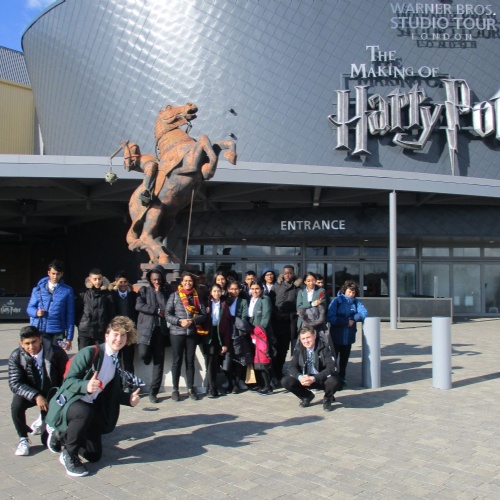 GCSE Design students had a brilliant day at the Harry Potter Studio this week. They had a workshop using props and set models from the film that are not usually seen up close in this way: 'I thought this was really cool' remarked one student! They talked about how the design would influence their GCSE projects, as well as having an enjoyable day. Feedback from students was extremely positive, and other visitors to the studio let our teachers know how impressed they were with our young people. Inspiring Learning and Pinner High School Values in action at the same time!
Footballers in Year 10 had a great result this week, progressing to the next round of the borough tournament. The table tennis team were also in action, and netballers have fixtures next week.
I was pleased to welcome the Director of the New Schools Network to Pinner High this week. The New Schools Network provide invaluable support for new schools, and the Director came to hear about our success, and how that can be replicated elsewhere. I enjoyed showing her round, and look forward to continuing to work together. Our refurbishment work continues, with demolition work around the school cottage taking place over half term so we will be able to utilise the space for maximum benefit in due course. Scaffolding work and 'internal strip out' continues. Progress reports have been positive from B&K, who have kept things moving along during inclement weather. The final outcome will be really exciting.
Local and international news, of course, has been dominated by one topic this week. That should not take away from the excellent trip the skiers had over half term. Feedback on their return was really positive, and many thanks to the staff for leading this group- our biggest one to date. The ski instructors specifically commented on the students' enthusiasm and resilience on the mountain, two of our Pinner High Values. In challenging times our community can demonstrate its true strength, and I am particularly grateful to those who have gone out of their way to show that this week. It is noted and appreciated.