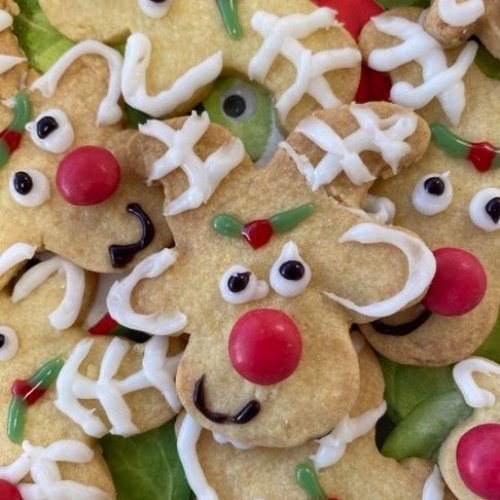 Holidays begin today, after a long and rewarding term. This week has been the culmination of lots of hard work on the growing arts scene in the school: Pinner's Got Talent, the Christmas Concert, the Hub Christmas show, and the local schools' carol service have all taken place in the last week. My thanks to all students and staff who have been involved in these events. Year 7 Food Technology students were not left out of the festive feeling with the Reindeer Cookies in the picture! It is worth commenting how our Year 7 students have settled into their new school really successfully. The end of their first term in secondary school is a good moment to reflect on this milestone. Transition to a new school can be difficult, but we know that with personalised pastoral care and lots of activities from the moment a school place is offered, it can be done really well.
Of course, there are lots of challenges for the future, as we look to develop the school still further. I am pleased to report the successful appointment of our Founding Head of Sixth Form, who will take up his appointment towards the end of the summer term, ready to work with our community to ensure our Sixth Form sets off on the same 'Outstanding' footing as the rest of the school. He will be attending our Year 10 Parents Evening on 30th January to start the conversation with our Trailblazing parents and students about post-16 options. I very much hope to have further news of our refurbishment programme early in the new year. There have been positive developments over the last few weeks, and once these are confirmed I will share them with the community. Exciting times!
In the meantime, Season's Greetings and Happy New Year!