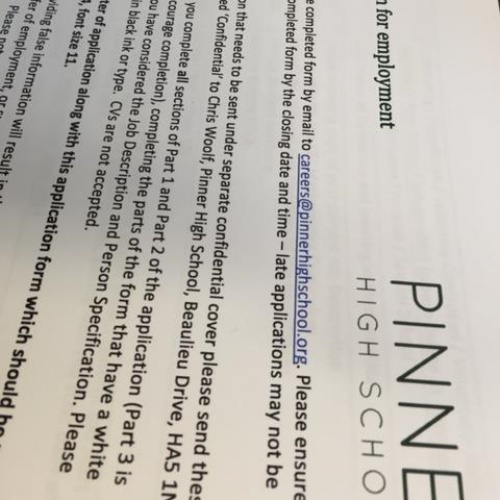 128 applications, 33 interviews, 5 successful appointments: all posts filled with first class colleagues!
After 33 interviews this week, I am delighted to say the first wave of leadership posts have all been filled by excellent candidates. Each bring a range of valuable experience and their own skills and knowledge to their key roles. Having such well qualified Head of English, Head of Maths, Head of Science, Head of Year 7 and Assistant Head (Inclusion) appointed so early means that the school will be set up for success from the first day of term in September.
Before that, staffing at Pinner High School is about to double, as my first colleague joins the team. Mary Connolly has over 10 years experience as a Senior Administrator at a local 'outstanding' school. There she line managed 12 staff, overseeing a range of essential services including admissions, welfare, reception, office functions, publications and reprographics. Mary is a local resident, with a 40 year family association with Pinner. She is significantly overqualified to be my PA, and I am very lucky to have her. I am delighted to welcome her to the team. I am sure many of you will get to know her very quickly as National Offer Day approaches on 1st March.
No sooner is one wave of recruitment successfully completed than another one begins. I am now finalising advertisements for the next round of teacher recruitment. Do keep an eye on our website, TES and the Guardian online to keep up to date with these exciting opportunities.