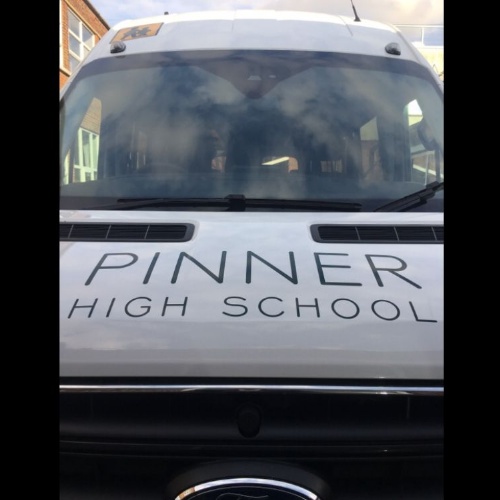 Our new mini-bus arrived this week, but news of this will have to wait until after the half term break, as our blog this week features a guest entry by our Chair of Governors. Dr. Ahmed writes:
'It has been another excellent half term of the year for the students at Pinner High School. There are now over 700 students, and they have settled in well to all aspects of school life. A growing school has unique rewards and challenges, and the strategic oversight Governors have of this ensures our continuing success.
Every half term I run a 'student voice' meeting, where I chat to a group of students about their experiences at school. I spoke to a very articulate group of Year 10 students last week, who told me about their growing school with so much pride. They talked warmly about the opportunities they have had 'so much better than our friends in other schools' (they said) and the support they feel from their teachers. They also talked about how well supported they are in their GCSE courses, and the high standards expected of them. They also made a point of telling me how friendly they still find the school. The same theme came from visitors to our open day a couple of weeks ago. Over a thousand visitors were here on the day, who filled the main hall four times during the day. When we were a brand new school we expected there to be lots of interest from all sorts of quarters. We also expected the number of visitors to decrease over time as so many families have been to see us already. However, our positive Ofsted inspection only seems to have increased the numbers for our fifth annual open event. My only regret is that they won't all be able to come here in September.
We all celebrated our 'Outstanding' judgement of the summer, but are keen to build further on this success. There is no shred of complacency in the Development Plans the Leadership team present to the Governors. They firmly have their sights set on the forthcoming GCSE examinations, and securing the Sixth Form with the same success that the whole school is founded on. The staff team have grown to nearly a hundred, and the extremely high quality of applicants the school has had to choose from is one of the main reasons for our success. Our Governing Body has also grown in size recently, and I am very grateful to them for the time they put in as volunteers to provide challenge to the school. We take this very seriously, and review a range of student data in detail.
We all await further news of our refurbishment plans. I know the community has been very patient with this, and there is an immense amount of work going on behind the scenes to secure this key aspect of our next development. Whenever I visit the school I am reminded that it is never the buildings that make a school special, it is the people within them. Nonetheless, I will ensure you are kept up to date with developments.
Student successes this half term have been wide ranging; more sports teams than ever before, greater numbers on the Duke of Edinburgh Award programme, and a vibrancy to school life that has always been the hallmark of a Pinner High School education. There are always new experiences too: the school is now on the Mandarin Excellence Programme, a prestigious opportunity supported by the British Council and the Institute of Education to develop Mandarin across the UK. Following the successful World Challenge trip to Costa Rica this summer, another trip was launched this week, this time to Tanzania. All of these opportunities require dedicated teachers to make them happen, and I would like to ensure all members of staff at the school know how much everything they do is appreciated by the Governing Body.
Students at Pinner High School have broad horizons. As well as the Chair of Governors and a Trustee, I am also a Pinner High School parent. The PTA continue to flourish; we are lucky to have such a supportive community, and it has been a pleasure to work with the school since before it opened. Thank you for your continuing support for our school. We have lots to look forward to!'