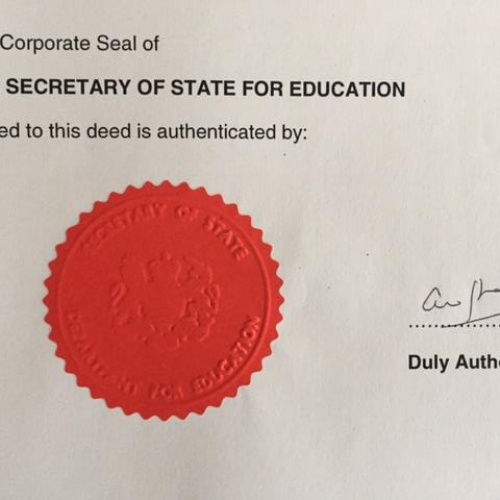 128 applications for our first teaching posts!
With the official seal from the Department for Education in the photograph, Pinner High School officially comes into being. This is just as well considering I am now a full time employee, my PA starts in a couple of weeks, and recent adverts to teach at the school attracted 128 applications for 5 posts.
My second week has seen additional interest in the school following an article in the Harrow Times. It was viewed on Facebook over 6,000 times within 24 hours :http://www.harrowtimes.co.uk/news/14201902.First_day_as_headteacher_of_the_quietest_school_in_the_country/
I enjoyed meeting Headteachers from across Harrow at their regular meeting this week, for a presentation from an Ofsted inspector, and other updates. The Harrow Academy Heads tend to meet at 7am to ensure they can be back in school in time for their schools to open, which takes a bit of getting used to. Pinner High School, like other local schools, will be part of the Harrow Collegiate Teaching Schools Alliance, so it was great to hear what they can offer.
The remainder of the week involved preparing for interviews, and getting a head start on reading the applications that have flooded in. A great position to be in!