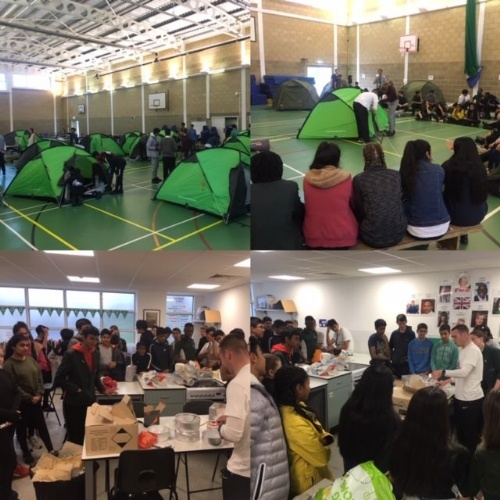 Students last week had their final training sessions before our first Duke of Edinburgh expedition. Tent and cooking practice had to take place inside due to all the rain. We hope it holds off at the weekend! The expedition involves camping and hiking with all the equipment that is needed in the campsite. For some students it is the first time they will have done this. For others, it is excellent training for their World Challenge trip to Costa Rica, which involves time trekking through the rainforest. Huge thanks to Mr. Surridge for organising the programme. Over 60 members of Year 9 will be taking part, which is an extremely large number. Good luck to everyone!
Congratulations this week to Mr. Fang, who presented a workshop to the Institute of Education Confucius Institute Annual Chinese Conference. This is the largest conference of its kind in the country, and it is very prestigious to have a paper submitted in this way. The theme of the conference was 'Looking Back, Thinking Forward' and I know Mr. Fang's contribution was well received.
Our swimmers did an excellent job at the borough gala last week. All teams did well, and the Year 9 boys won their category. Congratulations! Year 7 are taking part in the 'pedometer challenge' this week, with each form wearing a pedometer for the day before comparing notes at the end of the week.
I was delighted to share the news of our 'Outstanding' inspection report last week. The response has been amazing. Here is the link to the article about the inspection report from the Harrow Times: https://www.harrowtimes.co.uk/news/17707532.pinner-high-school-rated-outstanding-in-first-ever-ofsted-report/
Thank you so much for all of your support. It really is a community effort, and success in which we all share.