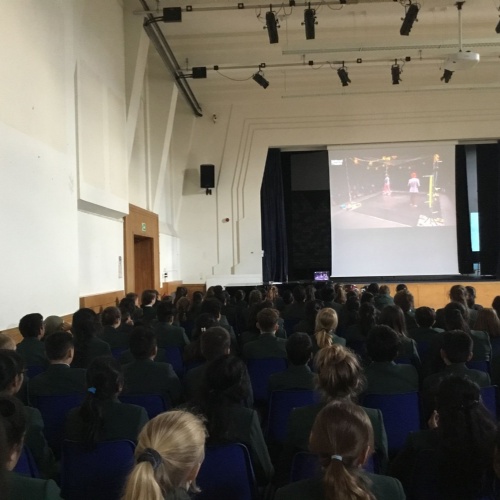 We celebrated the life and work of Shakespeare last week with our festival 'Shake It Off'. There was a huge range of events, from emoji quiz to Years 7 and 8 workshops during their lessons. They created the Globe during House Events, and watched the National Theatre screening of 'Romeo and Juliet' at the end of the week. Year 7 students were even heard quoting Shakespeare at each other as they went to the restaurant!
Student Government went to the Houses of Parliament this week, where they met local MP Nick Hurd. Last year our Parliamentary Ambassadors ran workshops in Primary Schools, and it is brilliant to have so many students engaged with the political process at such an interesting time in Westminster. On the same day our Scholar's Club in Year 9 attended their 'graduation' at the University of Oxford, which was a fabulous occasion. They have had aspirational mentoring from professionals through the year, and written extended essays on contemporary topics. These were graded by the Scholar's Club as if they were degree dissertations. There were particular celebrations for those awarded First Class Honours. I was expecting to have to wait until 2026 for the first news of degree classifications!
More sporting success to report from the Harrow Schools athletics festival, hosted at Harrow School. Pinner High students won 7 events, including the junior boys relay. All event winners will represent the district in the next stage of competition, which is brilliant. Environment week starts today: a chance to make small changes that can make a big difference to all our futures.
As you may know, last week saw our first Ofsted inspection. The judgement has to remain confidential until the report is published. It will be available in a few weeks and I particularly look forward to sharing it with you.