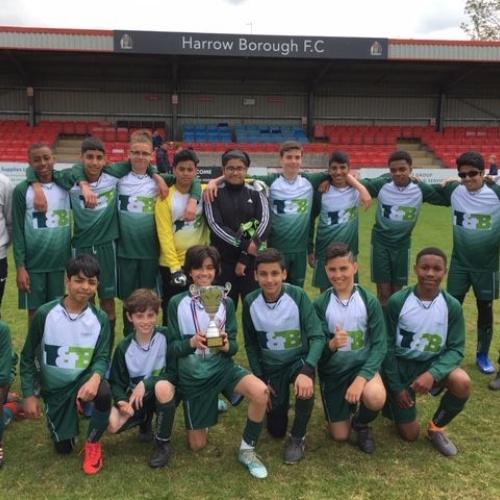 Sporting success steals the headlines this week: the Year 8 boys are Harrow Champions, ending their season undefeated in all matches. The final at Harrow Borough FC was a tight match against a strong Nower Hill team, with Pinner coming through 4-3 winners. Congratulations to all the players and coaches. It was a real team effort, and very tense to watch on the sidelines! The Rugby team made their 7s debut in the Middlesex competition, winning 2 matches during the afternoon. We are grateful for the support of Pinner Rugby Club in launching the sport with us. The tennis team were in action as well, and there were trials for cricket team places, which are always keenly contested with lots of interest.
There was lots of interest in the Police Cadets, who had their introductory session this week. Almost 30 students attended, which is a brilliant response, and I know PC Peacock has some great sessions planned for the future.
110 students took part in the Junior Maths Challenge this week, which is a very high number indeed. The Senior Maths Challenge students received their certificates at the end of the last half term, and we have high hopes for even more recognition in this version designed for the younger year groups. We also have news of our first Silver Duke of York 'Inspiring Digital Enterprise Award' winners, which is very exciting too.
Congratulations to all involved in a particularly successful week. Plenty more to come!