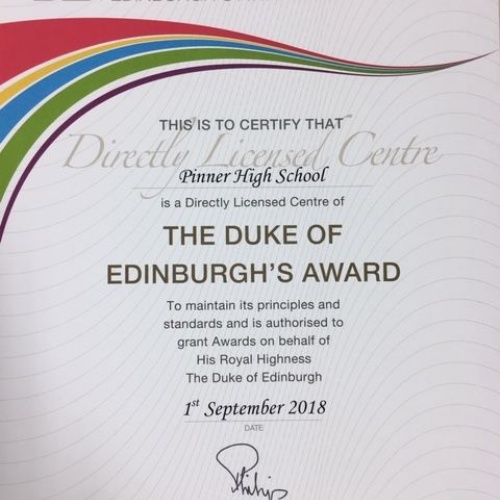 A shiny new certificate to welcome the New Year; confirmation of our Duke of Edinburgh Award license, signed by Prince Philip himself! The Duke of Edinburgh Award programme is a very prestigious one, and students have set about the work involved very effectively. Over 70 members of Year 9 have put themselves forward for this, which is a very impressive number.
This programme links into the Head's Challenge, and this week students made their choices for the Club activities for the term ahead: Board Games, Current Affairs, Drama, Textiles, Karaoke, Mindfulness, Stem Science, French, Music, Young Entrepreneurs, Parkour, Web design, Harry Potter, Spy Kids, Creative Writing, Sign Language, Chess, Journalism, Netball, Football, Table Tennis, Gymnastics and Cross Country. These are the choices for a Monday, with even more available on Thursday!
As well as all these opportunities, the cast list for the musical 'Hairspray' was shared this morning, with record numbers of students auditioning. 2019 has got off to a rapid start, after just 2 days of school: Happy New Year!